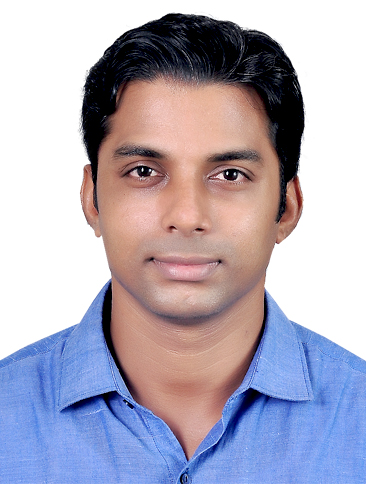 Nithin Kumar
Assistant Lecturer at Department of Oral Surgery
Graduated from Rajiv Gandi University of health sciences/ Yenepoya Dental College and Hospital 2007 (BDS)
Graduated from  Rajiv Gandi University of health sciences/ SDM College of Dental Science and Hospital 2013 (MDS)
Research Interests: Oral Surgery, Cleft Lip and Palate, Maxillofacial Traumatology,and Orthognattic Surgery.
Pulications:
1. DENTALIGHT JOURNAL vol. 3 Issue 1: pg 23 – 26. Inferior Alveolar Nerve Neurrorhaphy after Cyst Enucleation.
2. DENTAL BITES vol. 1 Issue 1: pg 5 –8 Excision of Pleomorphoic Adenoma of the Parotid Gland using Novel Landmark for Identification of Facial Nerve Trunk – A Case Report.
3. International Journal of Dental Clinics vol. 6 Issue 2: pg 30 – 31. Correction of Non Syndromic Facial asymmetry with pHDPE facial implant and Sliding Genioplasty
4. Pakistan Journal of Plastic Surgery vol. 1 Number 1: pg 10 – 19. Speech Outcomes in Operated Cleft Lip & Palate Children in South Indian Population – Descriptive Study.
5. Pakistan Journal of Plastic Surgery vol. 1 Number 1: pg 01 – 09. Tissue Adhesives and its Sanative Perspective – An Update.
6. Journal Of Maxillofacial And Oral Surgery: March 2015.pg S262 – S265 Benign Spindle Cell Tumour Of Mandible And Points Of Modification In Reconstruction With Nonvascularised Iliac Crest Graft.
7. Egyptian Journal of Oral & Maxillofacial Surgery 2015, Vol 6 No 3:pg 112–114 Aggressive dentigerous cyst in the maxillary sinus, originating from an ectopically erupted maxillary third molar: a case report.
8. DENTAL BITES Volume 5 Issue 1 January-March 2018: pg 25-29 Mucocele Of The Glands Of Blandin–Nuhn On The Ventral Surface Of Tongue – A Case Report.
9. Journal of Korean Association of Oral and Maxillofacial Surgeons. 2018 Jun;44(3):103-106 Comparison of the efficacy of amoxicillin-clavulanic acid with metronidazole to azithromycin with metronidazole after surgical removal of impacted lower third molar to prevent infection.